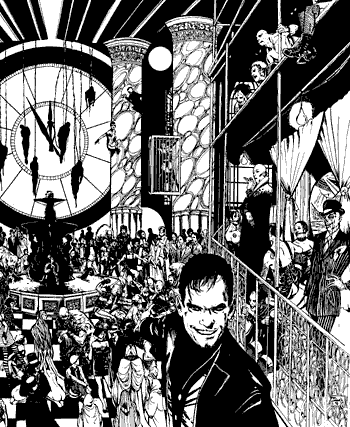 Credit to White Wolf

Bloodsucking corpses returned from the grave to feast on the blood of the living. Monsters dammed to hell who avoid their punishment through life unlawfully stolen. Erotic predators who take their sustenance from innocent, struggling --- or, perhaps, willing? --- men and women.

All lies I am sure. Your sire has told you each what we are and what you fledglings shall become. I am sure that by now at your presentation to me that you know all the laws about kine, and kindred, fledglings and elders, elysium and war, werewolves and the prince. My good, dear guests, in this city, MY city, things are very different indeed. This is Chicago. I call it home. If you wish to do the same you will obey my laws without question.

After Lodin's death I took this place over. Whereas he tolerated a huge anarch presence I do not. MY city is now solidly Camarilla, and it will stay that way. In this city are 17 scourges one of which the enmatic Shade Ka'Tar is my trusted associate and ally. He was the thin, wiry man who escorted you in tonight. Bother my scourges at your own peril. I harbor no fugitives here and I will not hesitate to call a blood hunt.
Besides this I have a few ground rules:
Now that you fledglings have heard my demands.... off with you I have better things to do with this night.


Credit to Poster.de

Email:Derby@notme.com
Web Administrator
or
Shadowtyrant@hotmail.com
Storyteller